CREWES Friday Talks
CREWES holds a general meeting every Friday morning during the fall and winter sessions. During the meeting, students are given the opportunity to practice giving a twenty minute conference style talk. These talks are often progress reports, tutorials, or literature reviews.
Due to current concerns with the COVID-19 situation CREWES researchers are currently taking part in social distancing practices. In line with such efforts the CREWES Friday Talk have been moved to an online format.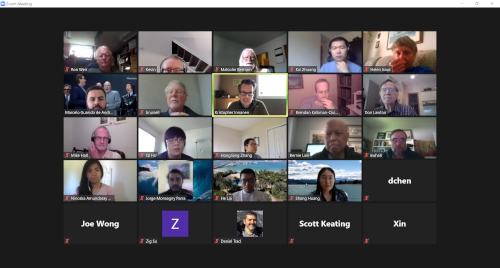 An online CREWES Friday Talk about to start in 2020
In 2012 CREWES began making these presentations available on our website on a voluntary basis.
Access to these presentations is restricted to employees of sponsoring companies for two years.
CREWES is trying a hybrid in person and online video presentations for Friday meetings. Successfully recorded video of the hybrid meeting presentations will be available for members of sponsor companies early in the following week
Most recent schedule of talks: Spring 2023 schedule
Friday talks by year